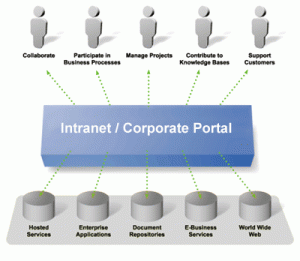 We offers a wealth of knowledge and experience in Intranet strategy, design development, customisations and training. In particular we offer intranet services in;

Strategy – we work with your stakeholder team to understand your organisation's needs to frame strategy and develop roadmap. We conduct needs analysis to determine your organisation's current information collaboration needs.
Review & Design – We offer both technology and information design services.  We believe there are two aspects to design when contemplating an intranet or revisiting an existing intranet, namely, information design and technology design.  We advocate that information design is definitely the priority as it plays a significant role in determining how well users will adopt the Intranet.
Provide you with a gap analysis report with recommendations on strategy, roadmap, design and delivery.
Selection of Intranet application.  We provide evaluation analysis services including five year costing analysis, forecasting the cost to maintain your Intranet.
Project manage the development, redevelopment and implementation. If you decide to build your own Intranet we provide business analysis and user interface (UI) design services.
Train and support your users during the implementation.